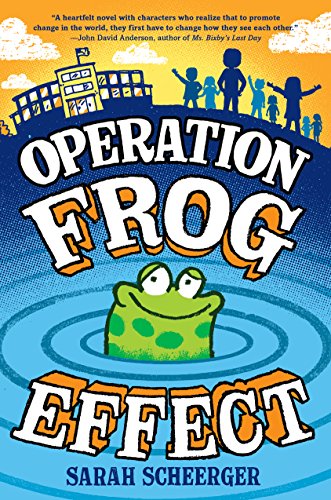 If one small act can create a ripple across the universe . . . what happens when a whole group of kids join together and act?
Told in eight perspectives–including one in graphic novel form–Operation Frog Effect is perfect for fans of Andrew Clements, Rob Buyea, and Sarah Weeks, and for anyone who wants to make a difference.
Available February 26, 2019.
Pre-order on Amazon • Barnes & Noble • Powells • IndieBound • Penguin Random House
Classroom Worksheets
Our classroom worksheets include several activities for young readers based on Operation Frog Effect that incorporate language arts, history, and social-emotional learning opportunities.
What People are Saying
"[Scheerger's] characters are genuine and complex as they grow and change into radical young adults. A thoughtful exploration of the power of the collective voice—growing up is owning up and speaking up." – Kirkus Reviews
"The author infuses her story in nonpreachy ways with themes of kindness, respect for others, and the importance of acting responsibly, capped by a list of helpful web resources." – John Peters, Booklist
"Operation Frog Effect is like 'The Breakfast Club' for middle schoolers. It'll make you laugh, cheer, and strive to be a better person." – Shannon Hitchcock, author of Ruby Lee & Me and One True Way
"An authentic, heartfelt novel that bounds from voice to voice and page to page…rewards readers with a rich cast of complex characters who realize that to promote change in the world, they first have to change how they see each other. – John David Anderson, author of Ms. Bixby's Last Day
If You Want to Learn More
About the Malala Fund and Malala Yousafzai's amazing work:
Check out her website: malala.org
About Malala herself:
Yousafzai, Malala, and Patricia McCormick: I Am Malala: How One Girl Stood Up for Education and Changed the World. New York: Little, Brown and Company, 2014.
About the issue of homelessness:
National Alliance to End Homelessness
National Center for Homeless Education
National Coalition for the Homeless
Strategies to End Homelessness
About other creative ways to address poverty:
Heifer International
UNICEF
The Water Project
About fun ways people are spreading kindness:
The dude. be nice. project
Make a Difference Day
Ripple Kindness Project
Rosa's Fresh Pizza
Spread Kindness
What People are Saying (Full Reviews)
"Inspired by their radical teacher, eight elementary school students speak up for what they believe in and make change in their school community. In Scheerger's middle-grade debut, she tackles issues of friendship, bullying, immigration, women's rights, access to education, and homelessness/poverty. Speaking in a series of notes, letters, journal entries, and comics, eight diverse voices lead the storytelling as readers follow the fifth-grade year of Ms. Graham's class (and their class frog, Kermit!). Ms. Graham's unconventional approach encourages her students to make new friends and think outside of the box. When a few students take her advice to 'immerse' themselves in their projects a little too far, the consequences are dire. Her students find the strength to fight for their rights and for one another; they remember their teacher's words: 'Remember change can take place on multiple levels. Even change within yourself is change.' When things finally start to look up, one student who's accustomed to always speaking her mind writes: 'I've learned something; / Once our rocks are thrown, pebbles or not, / We cannot stop the ripples / They have a life of their own.' Because this novel touches on so many important social issues, some feel neglected. Luckily, Scheerger's attention to careful characterization keeps this novel afloat. Her characters are genuine and complex as they grow and change into radical young adults. A thoughtful exploration of the power of the collective voice—growing up is owning up and speaking up." – Kirkus Reviews
"Eight fifth-graders actively tackle both personal relationships and social issues in this epistolary tale. On the first day, Ms. Graham announces that all are required to keep written journals. The ensuing mix of letters, free verse, theatrical scripts, and wordless sequential drawings track a mélange of secrets, insecurities, and politics in the classroom and beyond. When one group makes a unilateral decision to study homelessness by spending a night under a bridge, it spells serious trouble for both Ms. Graham's job and a student's undocumented Mexican family. Scheerger does an expert job throughout of keeping multiple subplots untangled and the voices of her narrators distinct. If in the end the character development is all of a positive sort and the outcomes a bit too tidy for easy belief, there are still nuances aplenty in the cast and plot for readers to ponder. Moreover, the author infuses her story in nonpreachy ways with themes of kindness, respect for others, and the importance of acting responsibly, capped by a list of helpful web resources." – John Peters, Booklist
"Operation Frog Effect is like 'The Breakfast Club' for middle schoolers. It'll make you laugh, cheer, and strive to be a better person." – Shannon Hitchcock, author of Ruby Lee & Me and One True Way
"An authentic, heartfelt novel that bounds from voice to voice and page to page. Scheerger's [middle-grade] debut rewards readers with a rich cast of complex characters who realize that to promote change in the world, they first have to change how they see each other. – John David Anderson, author of Ms. Bixby's Last Day
"Eight unforgettable fifth graders, one remarkable young teacher, and a sympathetic frog create a powerful community in this not-to-be missed story. Once in a while you find a book that feels like a gift. Operation Frog Effect is one of those books." – Val Hobbs, author of Sheep and Defiance
"A shy friend, funny friend, bossy friend, artistic friend, imaginary friend, even a froggy friend. All's fair when a class of fifth-graders come together to stick up for their beliefs and make a difference in the world." – Sherry Shahan, author of Ice Island
"Sarah Scheerger is the fifth grade whisperer. With her Operation Frog Effect, it feels as if a classroom of children have shared with her their deepest and most secret thoughts. It's truly funny and genuine. Students, parents and teachers will all recognize themselves. Not only is this delightful and poignant middle grade novel filled with authentic voices, it offers the best parts of a graphic novel, some poetry, the very cool science of frogs, and most importantly a whole lot of heart. Kids will be hoppy to have this book! It's sure to be loved by boys and girls alike." – Hillary Homzie, middle grade author of Queen of Likes and professor of children's writing and literature, Hollins University
"Operation Frog Effect will become a beloved read-aloud and treasured book to be read and shared with whispered words: 'You'll love this one.' It's a perfect middle grade read with engaging characters you will cheer for. I absolutely adored this fun and touching book." – Donna Gephart, author of Lily and Dunkin
"Sarah Scheerger's OPERATION FROG EFFECT is a fun and heart-warming read, brilliantly narrated by eight diverse elementary students you are sure to fall in love with." – Ernesto Cisneros, intermediate school teacher and author of the upcoming debut Efren Divided