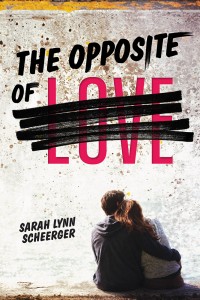 Rose is the wild girl nobody really knows. Chase is haunted by his past. Both are self-proclaimed "disappointments," attracted to each other enough to let down their defenses. When Rose's strict, adoptive parents forbid the relationship, it only makes things more intense. But Chase can't hide from his own personal demons, and Rose has secrets of her own. After they're wrenched apart, a cryptic email arrives in the middle of the night on Christmas Eve, beginning a desperate pursuit and a look back over their tumultuous romance. Will they find each other before the night is over, or will they be torn apart forever?
Buy on Amazon • Barnes & Noble • Powells • Bookshop.org Hardback or Bookshop.org Paperback
Read an Excerpt
Read an excerpt from The Opposite of Love (PDF)
What People are Saying
Selected for the School Library Journal's "What's hot in YA" list
"Rose and Chase are an unlikely pairing, until you compare their home lives. Rose is a wild child, at least according to her strict adoptive parents. She is determined to find her birth mother, no matter the cost or time it takes. Chase comes from an abusive home and fears that his anger will be just as out of control as his father's. Just as Rose and Chase start to trust and open up to each other, they are wrenched apart. Rose retreats from the world and Chase tries to move on. Then, a cryptic email from Rose sends Chase and their mutual friends on a race to find her before things get any worse. This third-person narration alternates between Rose's and Chase's perspectives. The time periods also shift between the present (when Rose sends her email) and the past. There are many themes running throughout the story, including teen pregnancy, truancy, drinking, smoking, and faith, all of which are handled with a gentle touch. The novel is for teens looking for a realistic story with a satisfying if not completely happy ending. Fans of John Green's Paper Towns (Dutton, 2008) will enjoy it. Gr 8 Up." – School Library Journal, Natalie Struecker, Rock Island Public Library, IL
"If love is defined in part by its obstacles, Chase and Rose should know exactly what love is, because they've got obstacles in abundance. Chase has until recently endured an abusive, alcoholic father and lives with his still-young mother, while Rose, adopted at the age of five, pines for the mother she was taken from and rejects her strict parents, particularly after they forbid her from seeing Chase. But their relationship drives lovingly forward anyway as they share their complex family dynamics and emotional wounds until crisis looms, and they're torn apart. Rose, with her deep hurt and miserable coping mechanisms, is an especially resonant figure. Scheerger's novel is unusual in that all the characters—parents included—have immense flaws, but they are treated with understanding, patience, and even forgiveness. Faith and Alcoholics Anonymous play significant roles as Rose, Chase, and their families attempt to find peace. Some attitudes about sexuality and pregnancy may prompt some soulsearching among readers, but, overall, this is a thoughtful story of coming to grips with emotional pain." – Paula Willey, Booklist
"The gritty, realistic story of Rose and Chase, two wounded teens with complex family lives who dig deep for the courage to trust each other. There are many pitfalls on their quest for love and serenity, but it is well worth it to join them on a journey that is both painful and triumphant. I loved this book!" — Cal Armistead, author of Being Henry David
"Rose and Chase are disappointments. Rose isn't the perfect adopted daughter her parents hoped for, instead she's rebellious and withdrawn. Chase fights – and sometimes loses – his battle to separate himself from the legacy of his abusive and alcoholic father. Labeled troubled and hopeless cases, they find someone to depend on in each other. After months apart, Chase receives a cryptic and worrisome email from Rose, which launches an introspective journey to determine not only where but when he lost her. The Opposite of Love is an intensely written story of two broken teens and the forces that shape us, but that, ultimately, cannot define us." — Sara Grochowski, Goodreads review, July 26, 2014. 5 of 5 stars
"I headed into Sarah Lynn Scheeger's The Opposite of Love, as I usually do, without reading the blurb. I'd pretty much been sold on the title and the cover and thought I already had a clear idea of what the book would be about. Well, I did … and I didn't. Because yes, it was a book about teen love and lust and relationships, and dealing with family and life in general—but it was also so much more than that, a tale of heartbreak and unfortunate circumstances and being strong enough to push forth.
From the off I connected with Chase. I loved his voice. Loved his character. And that didn't change as the book progressed. Yes, he came from a not-great background, and yes his home life was violently bad growing up, but for the most, that didn't really affect who he was. Deep down, although he often worried about having the same violent tendencies he'd seen from his now absent dad, he fought them every step of the way. And even the time when he snaps and fails to hold his temper in check, the remorse he feels over it and the disgust he feels toward himself kind of redeem him—because he wants to be better and his actions and inner turmoil prove that he more than willing to make that happen. Especially when he reconnects with his father, whom he hasn't seen since he walked out on them, and gets a surprise wakeup call of how everything could be. This aspect of the story, I found very refreshing. I love when authors don't take the typical route with absent parents or divorced families, and Ms Scheeger definitely did this.
Opposite Chase we have Rose. Whilst I wasn't so keen on her 'as a person', because I smelled trouble all over her and worried about some of her intentions, I couldn't help but emphasise with her, feel for her situation. Sure, she probably could've given her foster parents more of a chance, but kids and teens don't have the same thought processes as adults, and they're often more selfish, as well as seeing most things in shades of grey with little clarity. However, despite my rocky opening relationship with this character she surprised me once, and then continued to surprise me time and again, right the way up to the very end of the book.
I don't want to touch too much on the heart of what this book is about and what it's leading up to because I, personally, didn't catch on, I didn't call it, and the Aha! moment was a pretty pivotal point in the book for me, so I refuse to take that away from other potential readers by shouting it out here. However, I will say that this book is about dealing with a very real circumstance and very real relationships, and the entire way in which it is written—two different timelines (then and now) interwoven in a paralleled kind of way—drags the reader forth trying to solve the mystery of the opening, and I didn't want to stop right up until the very end.
And the ending? It was so bittersweet it was almost painful—which really wasn't helped by the fact that everything was pertained to more than outright stated. Decisions were hummed over, but weren't absolute on the ends of all parties involved, and so the reader is left to assume that X/Y/Z must have happened after they turned the last page. That being said, it didn't detract from my enjoyment of the book too much, and this is certainly still a decent read worth checking out." – J.A. Belfield, Goodreads review