Eighteen-year-old Cayenne barely remembers her mother, who died of breast cancer when Cayenne was four. The women in her family have a history of dying young. Cayenne figures she'll meet the same fate, so she might as well enjoy life now, engaging in death-defying risks like dodging trains and jumping off cliffs with her boyfriend.
When Cayenne receives a series of video messages her mother made for her before dying, she isn't sure she wants them. Her aunt Tee has been her true mother figure. But then Aunt Tee tests positive for a BRCA gene mutation—the one that doomed Cayenne's mom—and decides to get a mastectomy to reduce her chances of developing cancer. As Cayenne helps her aunt prepare for the surgery, she finds herself drawn to her mother's messages, with their musings on life, love, and perseverance. For the first time, Cayenne starts to question what it truly means to live life to the fullest, even when death might be written into her DNA.
Buy the hardcover on: Amazon • Barnes & Noble • Powells • Bookshop.org • Lerner Books
Buy the paperback on: Lerner • Barnes & Noble • Bookshop • Amazon
Paperback ISBN: 979-8-7656-0813-5 • Hardcover ISBN: 978-1541578890
Read an Excerpt
Read an excerpt from How to Live on the Edge.
---
News and Noteworthy
Meet-the-Author: Sarah Lynn Scheerger introduces and shares some of the backstory for creating How to Live on the Edge at TeachingBooks. Listen to the interview or read the transcript here.
Teaching Books guest blog: Read Sarah Lynn Scheerger's guest post, On Choices, Loss, and Self-Discovery.
Oxygen Starved Podcast: Listen to an interview here with Sarah Lynn Scheerger by Stacey and Christopher, the hosts of the Oxygen Starved Podcast.
---
What People are Saying
"An engaging tale of vulnerability and control." – Kirkus Reviews
"An important addition to young adult literature." – Booklist
"Breast cancer runs in Cayenne's family, and she is planning on living every day to the fullest. Because of the high risk of inheriting the BRCA gene mutation that already claimed her mother's life when she was little, Cayenne is an adrenaline junkie who dodges trains and jumps off cliffs just for the rush. When they lost their mom, Cayenne and her sister, Saffron, were taken in by their young aunt, who undergoes a preventative mastectomy to reduce her chances of getting what they call the 'Silk family curse.' When the sisters receive a series of videos filmed by their mother before her passing, family secrets will come into the open, including the identity of the father they never knew. Too many changes put Cayenne on edge, and when tragedy strikes, she'll have to ask herself if everyone and everything she loves are worth risking. This novel deals with some important issues such as body image and the definition of femininity. Are breasts and ovaries what make a woman? And if she must have them removed, will she still feel desirable? Readers will root for Cayenne despite the many mistakes she makes. VERDICT: This book has a strong character arc and can be used as a starting point to talk to teenagers about life choices, identity, and the inescapable reality of life-ending diseases. Recommended for libraries where books about medical issues and family secrets circulate well." – School Library Journal, Carol Youssif, Taipei American School, Taiwan
"A stirring story filled with heart and soul, and one that will dare you to rethink what it truly means to be brave and alive!" – Mary Rand Hess, New York Times bestselling author of Solo and Swing
"Told with humor and truth, this story of a young woman navigating loss, devastating secrets, and the reality of her own impending death is made richer for the unique and hopeful bond she shares with her sister, the unfamiliar love she discovers with a family she thought she understood – and the strength she needs to save herself." – Jennifer Longo, author of What I Carry, Up to this Pointe, and Six Feet Over It
"From jumping off cliffs to leaping into the uncertainty of life and the possibility she may have the BRCA gene that killed her mother, Cayenne is a perfectly-flawed and fearless heroine who we want to defy the odds. As Cayenne and her sister work through a series of video images their mother left to them before succumbing to cancer and their own conflicted relationship, her ideas about family, romance, womanhood, and the future are unraveled, torn, and reknit. Burgeoning with questions like can we love after we've lost and can we fight fate, this powerful story answers yes!" – NoNieqa Ramos, author of The Disturbed Girl's Dictionary and The Truth Is
"In Cayenne and Saffron, Sarah Lynn Scheerger creates fearless, compassionate, empowered sisters who, in figuring out what kind of women they want to be, love on the edge and steal your heart like they stole mine." – Gaby Triana, author of Wake the Hollow, Cakespell, and Summer of Yesterday
"Cancer took Cayenne's mom, it's gunning for her aunt, and she's sure she's next. But as long-held secrets upend Cayenne's world, she learns that defying death isn't about facing down trains or jumping off cliffs— it's learning to live and love with every ounce of your being. Honest and real, HOW TO LIVE ON THE EDGE, is a gift to young readers living in the frightening shadow of a genetic curse." – Catherine Linka, author of What I Want You to See, A Girl Called Fearless, and A Girl Undone
"Scheerger drops us into the psyche of a snarky, irresistible teen who's navigating the dangers of a life-threatening gene mutation. The voice is authentic and emotionally passionate in this headlong page-turner." – Sherry Shahan, author Skin and Bones as well as many other books for young readers
---
Further Resources
Prevention
Managing Cancer Risk
Cancer Treatment, Research, Resources, and Support
---
Video
View the official book trailer below and share it with friends:
Sarah speaks about breast cancer detection with the Know Your Lemons Foundation. Sarah's part starts at the 37:50 mark.
---
Spread the Word
If you'd like to spread the word about How to Live on the Edge on social media, feel free to use the graphic below. Thanks!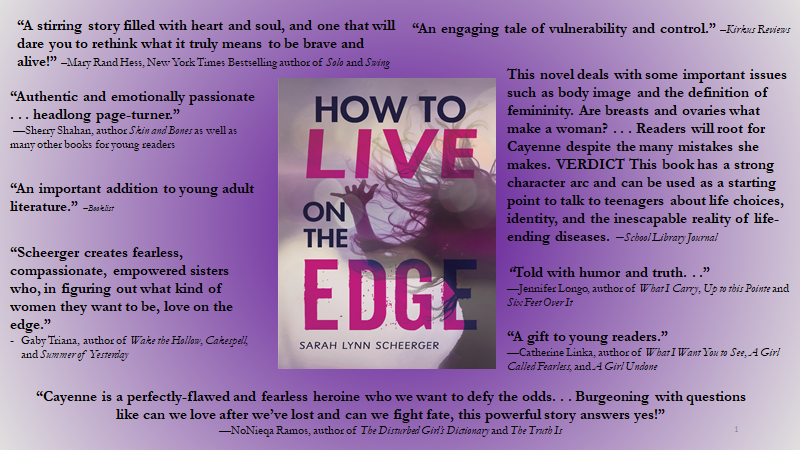 ---
Author Card